To Heal People with Smart Clothing Instead of Drugs
Our mission is to relieve pain, accelerate healing, and reduce inflammation without medication.
Healables is an Israeli digital health start-up that develops wearable, therapeutic smart textiles.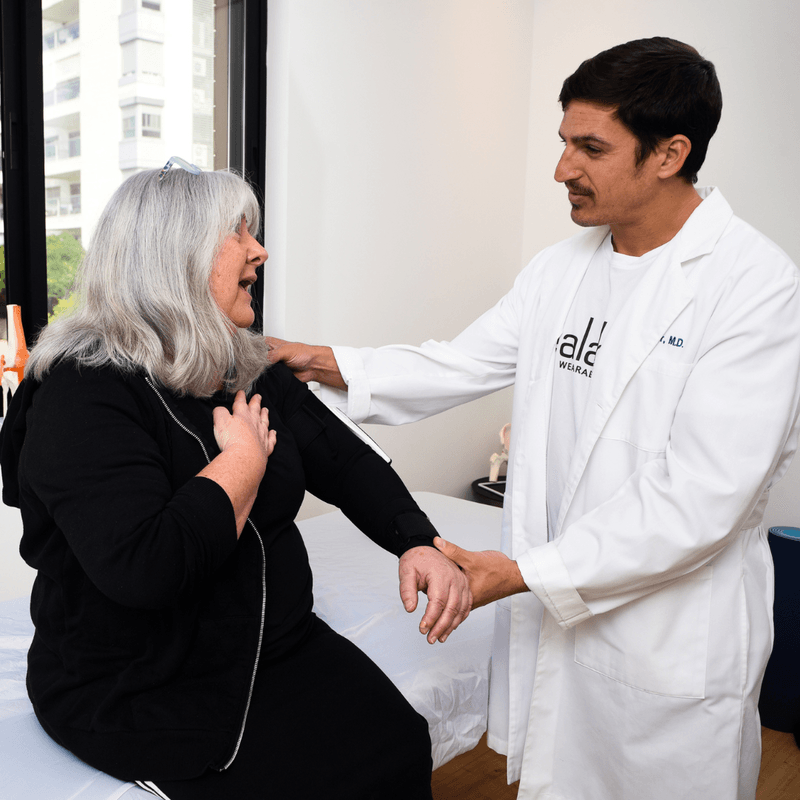 Meet our Dedicated Team Members
Moshe Lebowitz | CEO, Co-Founder
Moshe Lebowitz is a visionary who believes that humanity is on a positive trajectory and that we all have a responsibility to solve today's biggest health challenges. He has previously served as UI/UX Designer, Product Manager and CEO. Lebowitz uses his rabbinic training to solve business problems differently and innovates through the creative integration of technology together with new inventions. Lebowitz practices Hasidic meditation and is trained in craniosacral therapy and Chinese medicine.
Dr. George Lowell - Chief Scientific Officer
Dr. George H. Lowell has served on both the Scientific Advisory Board and the Board of Directors of BiondVax. He was Chief Scientific Officer for BioDefense at GSK Biologicals. He retired from the US Army as a Colonel. He has initiated numerous clinical studies and clinical trials for FDA Approval. His academic posts include Visiting Scientist at Weizmann and Visiting Professor, Hebrew University-Hadassah Medical Center. Dr. Lowell is an early angel investor in Healables and serves on the BoD.
Dr. Andrew Shiller - Chief Medical Officer
Dr. Andrew Shiller. After graduating from Duke, Dr. Shiller completed his internal medicine and physical medicine and rehabilitation residencies at Harvard Medical School. The University of Maryland Center for Complementary Medicine Research taught him Integrative Medicine. His specialities were natural healing, stress reduction, nutrition, hands-on healing, movement therapy, and mind/body awareness.
Yehuda Barbasch - COO/CFO
Citibank and Pictet Wealth Management employed Yehuda Barbasch in international investment banking. His British accent, people skills, and financial expertise make him a good company planner and operator. Yehuda speaks English, French, and Hebrew and has a BBA in International Business from Leeds Beckett and Aix-Marseille Universities.
Marco Van Der Putten Landau
Marco Van Der Putten Landau - CBDO
Marco van der Putten Landau connects individuals and organizations to generate value and close transactions. Marco speaks Chinese, Spanish, French, Portuguese, Dutch, and Italian. Marco understands and overcomes cultural differences to identify universal truths in his colleagues and develop global commercial synergies and partnerships.
Ziv Ritchie  BSEE – CTO
Ziv Ritchie studied electrical engineering at JCT. He studied Reality Therapy at the William Glasser Institute and helped Professor Joshua Ritchie, MD create and run the Refuah Institute, the world's top Torah-based coach training program. Ziv uses his psychology training and technology talents to build the Healables digital health coaching app and manage the development and manufacture of electroceutical devices and fabrics.
Yasha Harari - CMO
World-class marketer Yasha Harari. He has led marketing and delivered record results for leading B2B, B2C, and B2B2C medical device, IT, gaming, FinTech, retail brands, trade organizations, consumer items, publishers, advertising businesses, and others globally. Yasha pioneered Internet marketing decades ago.